$2,000
$500 second chance free traditional bet and $1,500 second chance free PointsBet - T&Cs Apply
Bonuses and Promotions
4.5
Odds Vs. The Competition
5.0
Market Depth & Variety
4.5
Bottom Line
PointsBet Virginia is now live, which exciting for Virginian bettors. It offers a unique type of betting built for risk-seeking bettors. Bettors can make precise Pointsbetting bets and be rewarded and penalized exponentially. So, bettors can win big and lose big. It's an excellent sportsbook for bettors who like to bet big and win bigger.
PointsBet offers an excellent welcome bonus: a second chance free fixed-odds (traditional) bet up to $500 and second chance free Pointsbetting bet up to $1,500. This generous incentive allows you to try both kinds of wagers without fear of losing your nest egg.
Here's how PointsBet stacks up against the other sportsbooks in Virginia's sports betting market.
Second Chance Free Bets
Banking Options
Strong App
PointsBet Virginia Is A Legal Sportsbook Licensed By The Virginia Lottery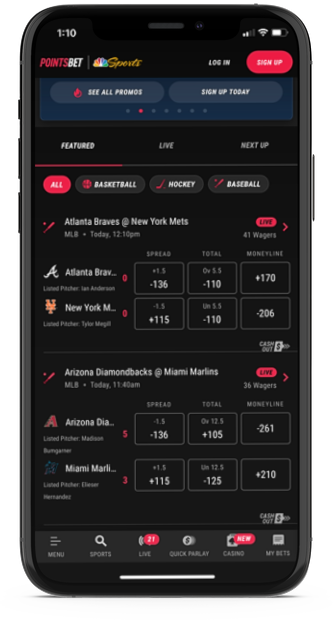 PointsBet Virginia Sportsbook Bonus Code 2022
PointsBet offers $2,000 across 2 second chance free bets with the bonus code BESTOFFER. Bettors will receive one traditional, fixed-odds second chance bet up to $500 and one Pointsbetting wager with a rebate up to $1,500.
Of course, you don't have to use the maximum; you can choose to make a $50 second chance free traditional bet and a $20 second chance free Pointsbetting wager (and with Pointsbetting wagers, it may be wise to start relatively small, since the wins and losses multiply exponentially.)
Terms and conditions apply.
| | |
| --- | --- |
| PointsBet Virginia Promo Code | BESTOFFER |
| Second Chance Free Bet | $2,000 In Second Chance Free Bets: $500 traditional bet and $1,500 PointsBet |
| What States Allow PointsBet | CO, IL, IN, IA, KS, LA, MD, MI, NJ, NY, PA, VA & WV |
| PointsBet's Land-Based Partner | Colonial Downs |
| Promo Code Verified For | November 2022 |
How To Register For A PointsBet Account 
PointsBet makes it easy to register for an online account. First, bettors click on the 'register' button in the top-right corner of the screen. That will take bettors to the first screen, where they enter their email and new login information. Bettors will enter their personal information on the next screen, including the last four digits of bettors' social security numbers. This allows PointsBet to do identify customers for withdrawals, big wins, and legal reasons. After that, bettors set their security questions, make their first deposits, and make their first bets.
PointsBet has a fantastic welcome bonus. Your first traditional, fixed-bets odd is covered up to $500. Your first Pointsbetting wager is covered up to $1,500.
Of course, this bonus isn't entirely risk-free. Bettors must place their wagers with their own money. If you lose, you will get the amount of money you wagered back in site credits, up to the maximum. However, you can't withdraw site credits like cash. Instead, you use them to try another bet (or more; you can split the free bet credits into up to 4 equal pieces). If you win your next bet (or bets), then you can withdraw your winnings.  If you lose that next bet, you do lose the money.
Bottom line: it is better to win your first bet than rely on the welcome offer.  Still, it is nice to know that you have a cushion if it doesn't work out for you.
If bettors are looking for a player-friendly bonus to leverage, PointsBet is definitely a good one to try.
PointsBet is one of the most competitive sportsbook brands in the United States. No sportsbook has the best odds every time. However, PointsBet consistently offers strong odds. Bettors should have multiple sportsbook accounts to find the best odds on every wager. PointsBet is a strong contender to be one of those sportsbooks.
Best PointsBet Point Spreads and Over/Under Odds
Point spreads and over/unders are bets on how much a team will win or lose by. Over/unders are wagers on the total number of points both teams score during the game.
The standard odds on these bets are -110 on both sides. However, the odds and spreads remain in flux leading up to and during the game. So, bettors have to make sure they lock into the best odds and spreads. 
Finding the best spreads and over/unders is easy. Good spreads on the over and underdog are higher numbers. They're +3.5 instead of +2.5. Under and favorite bettors want smaller numbers. They want the -3.5 instead of the -2.5. Here's an example:
| | PointsBet | Caesars Sportsbook |
| --- | --- | --- |
| Indiana Fever | +13.5 -110 | +13 -110 |
| Seattle Strom | -13.5 -110 | -13 -110 |
On this line, both sportsbooks have the same odds. So, it comes down to the spread. PointsBet's spread is a half-point better than Caesars. That eliminates the possibility of a push, where bettors win nothing and get their stakes back. So, PointsBet is a better sportsbook to bet at on this line. 
Best PointsBet Moneyline Odds
Moneylines are bets on a game's winner. The scores and spreads don't matter for these bets. Comparing moneyline odds is easy. All bettors have to do is find the highest odds on the team they want to bet on. Moneylines are especially popular on baseball lines, like the ones below:
| | PointsBet | Circa Sportsbook |
| --- | --- | --- |
| Atlanta Braves | -291 | -264 |
| Cincinnati Reds | +230 | +218 |
On this set of odds, PointsBet has better odds on the Reds, and Circa Sportsbook has better odds on the Braves. Bettors need to get used to betting at different sportsbooks depending on where the best odds are. Those small differences can be the differences between large and small losses over time. 
PointsBet Futures Odds Against Competitors
Futures bets are wagers on a season's outcome. Usually, they're bets on championships, awards, and in some sports, division winners. Bettors can tell how strong a book's futures odds are overall by measuring its future's theoretical hold. Theoretical hold is the money a book expects to keep after payouts. Sportsbooks with a high theoretical hold have lower odds overall. Low-hold books have higher odds overall.
However, theoretical hold can be misleading. A sportsbook with high theoretical hold can have the best odds on the one line bettors want to put money on. Here's an example:
| | PointsBet | FanDuel |
| --- | --- | --- |
| NFL Futures Theoretical Hold | 20.36% | 18.08% |
| Buffalo Bills Odds | +700 | +650 |
PointsBet has a slightly higher theoretical hold than FanDuel. But theoretical hold differences need to be around 5-6% to make a big-picture difference. PointsBet still has better odds on the Bills than FanDuel. That's why bettors need to get in the habit of odds shopping. Theoretical hold isn't the whole story.
PointsBet has just under two dozen sports to bet on. These include everything from the most popular mainstream sports to cycling, cricket, and darts. Most bettors will find what they're looking for in PointsBet's A-Z list. However, bettors will also find many leagues to choose from too. For example, under football, bettors will find professional and college leagues. College leagues are under the other major sports, too. However, PointsBet also has esports lines. They're not populated year-round. It's empty during the off-season. But bettors who are interested in the growing esports leagues will be able to put money on them.
PointsBet fills its sportsbook fuller than some of its largest competitors. It offers more sports to bet on than some of its competitors, like Caesars Sportsbook, in terms of market depth and variety. However, PointsBet still doesn't unseat DraftKings as the king of sport selection. But PointsBet offers a generous selection of sports and leagues for bettors to choose from. There are also plenty of wagers on those sports, leagues, teams, and players. So, PointsBet will be a good sportsbook for bettors with mainstream and niche interests.  
PointsBet offers four deposit methods and four cashout options. Its deposit options are fewer than competing sportsbooks. However, its deposit methods include the most convenient deposit options:
Credit/Debit Cards  

PayPal

ACH/eCheck

PayNearMe
Credit and debit cards are in everyone's pocket. However, some cards get blocked when bettors try to deposit with them. ACH transfers can run into the same issue. These blocks come from early prejudices from when the first gambling sites came online. So, PayPal and cash payments through PayNearMe have become popular alternatives. PointsBet's withdrawal methods include: 
PayPal

ACH/eCheck

Online Banking 
These are all online options, but they're not instantaneous like deposits are. Bettors will have to wait up to 10 business days for some of these withdrawal methods. PointsBet approves each withdrawal, so bettors must be patient if they win. 
Overall, PointsBet makes it easy to move money between bettor accounts. As long as bettors are flexible with their deposit options, they should have no problems with PointsBet.   
PointsBet's mobile app overcomes a difficult design challenge. It makes a red and black theme look good on a small screen. The white text pops without hurting bettors' eyes. It also does a good job of highlighting the menus and navigation tabs. Visually, it's appealing and approachable. 
PointsBet is a strong app functionally, too. There's no lag between screens, which avoids a common issue with cheap sportsbook apps. PointsBet also makes it easy to find popular and live betting lines. The home screen includes tabs that whisk bettors to the most popular lines, making it easy for bettors to satisfy their urges to bet. There's almost always betting action available, which reflects PointsBet's intense sport and league selections. 
Finally, PointsBet's app makes it easy to switch between fixed-odds betting and PointsBetting. Bettors can select a line, then switch between the fixed-odds and PointsBetting tabs. Some lines also include additional teasers for bettors who want to expand their menu of point total and point spread bets. There's a lot to love about PointsBet's app. It's a sleek, modern app befitting Virginia's budding sports betting industry.    
PointsBet shows off its innovation in a variety of ways. Of course, the primary is the Pointsbetting system and a fun "Name Your Bet" option, where you can propose a bet and the sportsbook will give you odds. However, even the welcome bonus is unique, spreading second chance free bets across 2 different types so bettors can try both. Overall, PointsBet's new take on wagering alone makes it worth a try.
In other areas, though, PointsBet also scores pretty well. The odds are modest, but they keep up with the largest sportsbook brands. There are many sports, leagues, players, teams, and bets for bettors to try. Bettors also have convenient deposit and withdrawal methods at their fingertips.
With a great app to bet on, bettors have many reasons to give PointsBet a shot. 
Is PointsBet Legit? 
Yes. PointsBet is a legitimate company with a short but impressive history. Here are five reasons why bettors can trust PointsBet's legitimacy. 
PointsBet's State Licenses
PointsBet has secured gaming licenses in over half a dozen states, with more on the way. It has secured these licenses by submitting to challenging application processes. It has been vetted by state regulatory agencies repeatedly and continues to come out on top. If Virginians don't trust their own state's regulatory agency, there are several other states whose processes they can look toward for hope. 
PointsBet's Virginia License
PointsBet secured a sports betting license from the Virginia Lottery. The Lottery oversees all gaming in Virginia and also awards licenses. It can fine sportsbooks that behave poorly in the market, giving bettors a safety net unavailable in unregulated markets. In an extreme case, the Virginia Lottery could suspend a sportsbook's betting license. It's a robust control that PointsBet has agreed to submit itself to.  
PointsBet's Obligations Under Virginia Law
Virginia's sports betting bill gives the Virginia Lottery a lot of power over sportsbooks before they can launch. For example, sportsbooks must submit their hardware and software to the Virginia Lottery for a pre-launch review. That way, the Lottery can ensure that it's secure and functional for bettors. 
PointsBet's Responsible Gaming Features 
Virginia's sports betting bill also mandates that sportsbooks implement responsible gaming features into their apps. These features include setting time limits, wager limits, and the ability for bettors to self-exclude. Bettors can also lock themselves out of their accounts for months or years at a time. While most bettors won't need these features, responsible gaming measures like these are life-saving for the bettors who need them. 
Why Choose PointsBet Over Illegal Betting Sites? 
PointsBet is safer for Virginia bettors than any illegal or unlicensed sports betting option. When Virginia bettors register for PointsBet accounts, they're signing up for a platform that multiple states have tested. Every state that PointsBet has launched in requires sportsbooks to submit hardware and software to the state's gaming authority. That allows state gaming commissions to vet sportsbooks before bettors try them. Gaming regulators ensure that all the software works so that bettors don't get stuck with defunct products. Regulators also check the software and hardware's security.
Unlicensed betting sites don't have those controls in place. There's no one in charge of checking an illegal bookie's cash supply. Similarly, there's no one in charge of protecting bettors' social security numbers at unlawful sportsbooks. When bettors wager at illegal sportsbooks, they're risking their personal data and financial security. 
However, bettors who wager at illegal betting sites face bigger risks. Illegal sportsbooks have no obligation to pay bettors their winnings. By definition, illegal sportsbooks don't have to follow the law. They don't have to write terms and conditions, much less abide by them. If one of these illegal sportsbooks takes advantage of a bettor, that bettor has no legal recourse. No police officer or lawyer would help a bettor recover unlawful gambling winnings. Bettors would also risk arrest for admitting to illegal gambling. 
There are no upsides to betting illegally. PointsBet is one of many safe, licensed, and regulated sportsbooks that Virginian bettors can enjoy. Virginian bettors have no reason to turn to illegal betting sites now that the Virginia Lottery oversees a safe sports betting industry.   
Why Can You Trust PointsBet With Your Money? 
Like all licensed sportsbooks, PointsBet has been tested to ensure that it's safe for bettors. The Virginia Lottery examines each piece of hardware and software to check for a few crucial features. The Lottery ensures that all the parts work together. That avoids a disaster like a bettor depositing $1,000 and not getting it back due to a technical error. Bettors also benefit from a comprehensive digital security check. The Lottery ensures that sportsbooks like PointsBet can protect financial and personal information. These are critical checks. 
However, PointsBet's legitimacy speaks for itself, too. Not only has it won industry awards. It also operates successfully in multiple markets in multiple countries. PointsBet is in Australia and the United States. So, it has conformed to many different regulatory requirements. The gambling industry is one of the most heavily regulated in the United States. If PointsBet can satisfy American regulators, then bettors should feel comfortable trusting PointsBet with their money.      
PointsBet Fact Sheet
| | |
| --- | --- |
| Legal Betting Age | 21 |
| States Where PointsBet Is Legal | CO, IL, IN, IA, KS, LA, MD, MI, NJ, NY, PA, VA & WV |
| PointsBet's Land-Based Partner | Colonial Downs |
PointsBet offers one of the best sportsbook bonuses in the industry. Not only that, but its product is all-around solid, offering some of the best market depth around and a great app. It's now officially live in Virginia, adding to the nearly half a dozen states with access to this top sportsbook app.
Bonus & Promotional Grade
Market Depth & Variety Grade
Pros
Excellent app with an easy user interface
Great selection of deposit and withdraw options
Cons
Odds could be better at times
PointsBet Virginia Sportsbook FAQ
How Old Do I Have To Be To Use PointsBet In Virginia? 
21. Virginia's sports betting bill sets Virginia's sports betting age at 21. This allows casinos to open retail sportsbooks without interfering with casinos' liquor licenses. It's also the standard sports betting age across most of the United States.  
Do I Have To Be In Virginia To Bet At PointsBet?
Yes. Bettors can't place PointsBet Virginia bets if they've traveled to Texas and stole a few minutes to bet. Bettors can create their accounts from anywhere in the country. But bets will only go through if bettors are in-state.  
Is PointsBet Licensed In Virginia? 
Yes. PointsBet has its sports betting license from the Virginia Lottery. This allows PointsBet to operate legitimately in Virginia. However, it also puts PointsBet through a rigorous audit that keeps bettors safe and sportsbooks competitive. This license is the key to PointsBet's legitimacy in Virginia. 
Can I Get Any Second Chance Free Bets From PointsBet?
Yes. PointsBet offers 2 second chance free bets for a total of up to $2,000 for new bettors. Those second chance free bets are broken down as up to $500 on a traditional (fixed-odds) bet and up to $1,500 on a PointsBetting wager.
Does PointsBet Have Esports Lines In Virginia? 
Yes. PointsBet has an esports section in its A-Z sports list. However, the esports section is not populated year-round. There are weeks when it's empty because there are so few esports leagues recognized by state gaming authorities. However, when esports heats up, PointsBet will offer betting lines on them.