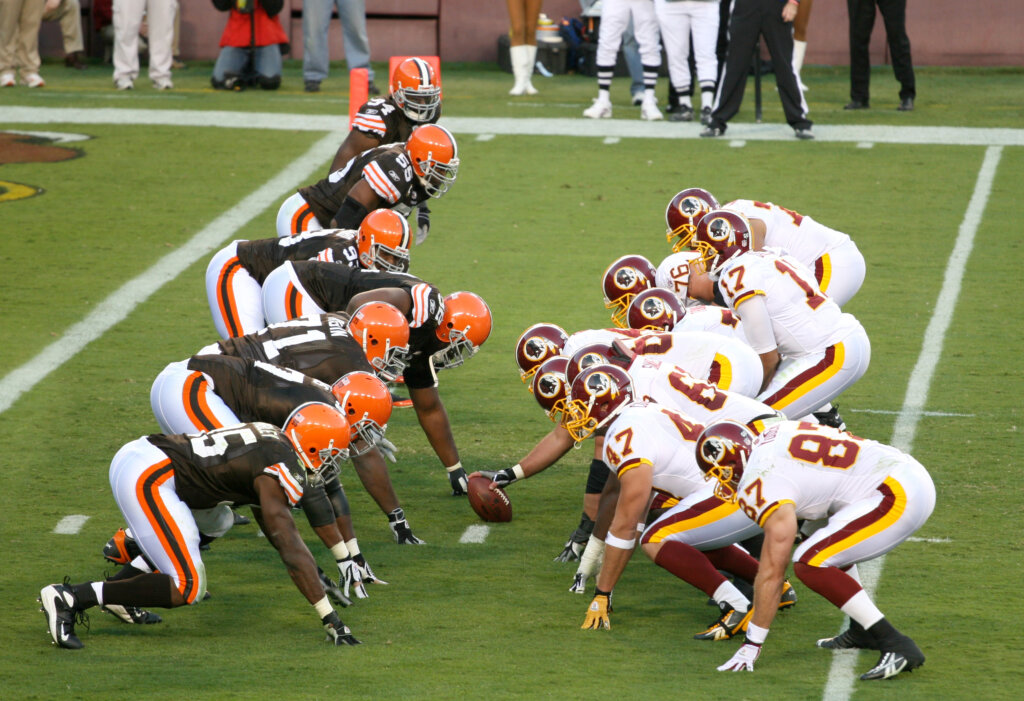 After getting embarrassed by the Chiefs and Bengals in back-to-back losses, the Raiders managed to win on Thanksgiving against the Cowboys. The game was an ugly prelude to a turkey and stuffing dinner, but somehow the Raiders emerged with the drumstick in a 36-33 overtime victory. Gobble, gobble.
After an extended period of preparation, the Raiders will face the Washington Football Team on Sunday in Las Vegas in a clash of teams both trying to force their way into the playoff picture.
Washington is riding a three-game winning streak but opened as a short road underdog for Sunday's game. Here are all the betting odds.
Washington Football Team Vs. Las Vegas Raiders Betting Odds
Sportsbook
Point spread
Moneyline
Total
BetMGM
Washington +2.5 (-110)
Las Vegas -2.5 (-110)
Washington +110
Las Vegas -130
Over 49.5 (-110)
Under 49.5 (-110)
BetRivers
Washington +2.5 (-107)
Las Vegas -2.5 (-113)
Washington +120
Las Vegas -137
Over 49.5 (-110)
Under 49.5 (-110)
Caesars
Washington +2.5 (-105)
Las Vegas -2.5 (-115)
Washington +120
Las Vegas -140
Over 49.5 (-110)
Under 49.5 (-110)
DraftKings
Washington +2.5 (-105)
Las Vegas -2.5 (-115)
Washington +120
Las Vegas -140
Over 49.5 (-110)
Under 49.5 (-110)
Washington Repeating A Pattern
Start the season poorly. Revamp the defense. Patch the offense together. Build a winning streak. Squeak into the playoffs.
Haven't we seen this movie before?
Washington started last season 2-7 before ripping off five wins in its last seven and capturing an unlikely NFC East division title. Could it be happening again? It's very possible, WFT fans.
WFT has two games remaining against Dallas, which sits two games ahead of them in the division. In fact, after this game against Las Vegas, Washington will have only division games remaining (two each against Dallas and Philly, and one versus the Giants).
That means Washington holds its playoff hopes in its own clammy hands. With last year as a template, I wouldn't count them out. Seeing as the division games will be tough regardless, this matchup against the Raiders is an important road game to set Washington up for a potential playoff run.
RB Antonio Gibson leads the WFT offensive attack, coming off a 153-yard performance against the usually stingy Seahawks. Washington controlled the ball for more than 41 minutes in that win. That's the blueprint for WFT: Keep the ball and wear down its opponent. Win ugly, and just win, baby.
Raiders Are Scratching And Clawing
On the other side, the Raiders are somehow clogging through a strange season where their head coach resigned, and their quarterback has had problems with throwing the ball to the other team.
Despite a sickly 57.2 QBR, Derek Carr leads the NFL in passing yards and has the Raiders in the mix with almost every other team in the AFC for a playoff spot. If the Raiders fought their way into the playoffs this season it would be like winning a five-leg parlay.
Betting Recommendation
I'm not sure why anyone would trust the Raiders, a team that's more unpredictable than Kanye West at an awards show. The Raiders win when they aren't supposed to, fail to cover the spread when they seem like a lock, and change their narrative more often than a Kardashian changes their hairdo.
So why trust the oddsmakers? I say take the points and bet the visiting Washington Football Team to cover or win this game outright. The Over/Under seems high, so I'd bet on the under.