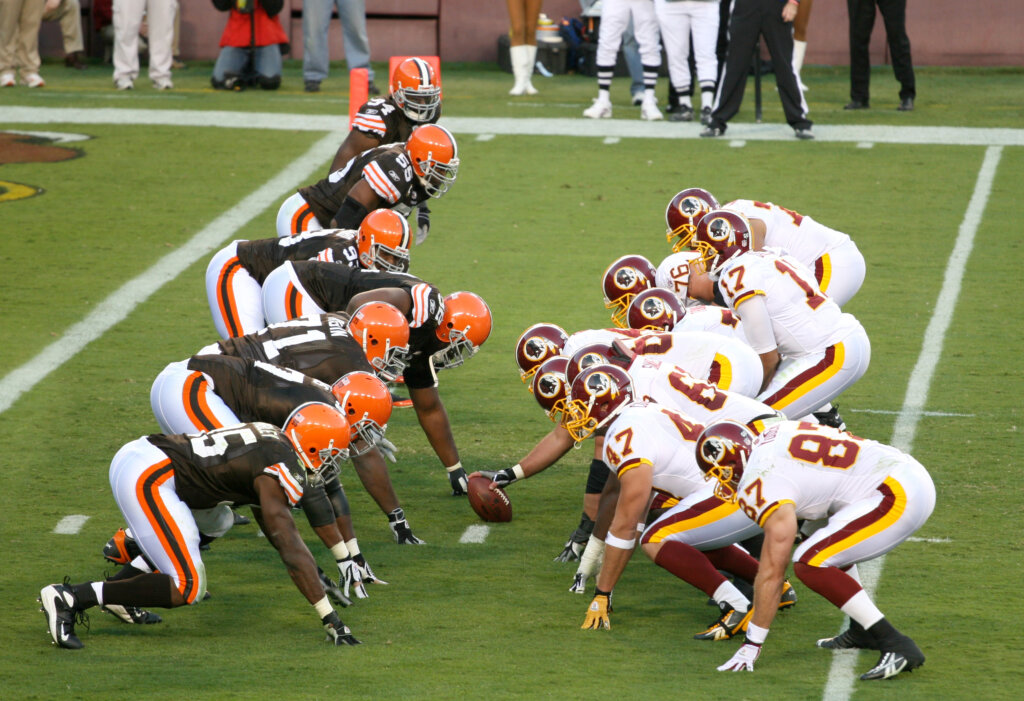 The game between the Washington Football Team and the Carolina Panthers Sunday is a case of two teams looking up. 
The WFT halted a four-game losing streak last weekend with a surprising 29-19 victory over the defending Super Bowl champion Tampa Bay Buccaneers, while the Panthers went into the desert and upset the Arizona Cardinals 34-10 despite not having their starting quarterback.
Neither team is likely to go where the Buccaneers went last year, but there's still a lot of football to be played. The Carolina roster was infused with energy last week when an old face reappeared to wear the Panther Blue and Silver.
The betting odds for this game moved significantly almost immediately. Carolina opened as a 2-point favorite, but that quickly moved up to 3.5 points.
Also Read: DraftKings Virginia promo gives new users $100 for placing $1 bet
Superman Returns
The reports of Superman's death were greatly exaggerated. Last Sunday, former NFL MVP Cam Newton returned to the Panthers as a free agent following the injury to starting QB Sam Darnold. Newton played sparingly, but he got into the end zone twice, once with his legs and once with his arm on goal-line plays.
Newton has not been named the starter for the game against Washington, but it's likely he will see a lot of action, especially with the Carolina fans excited to see their hero back on their field.
How much a 32-year old Newton can deliver remains to be seen. He's not as fast as he used to be. He was never a superior passer. His release seems to have gotten even slower. Last week he looked less like Superman, and more like an excited Clark Kent.
The Panthers are ranked 25th in the league in passing yards — not because they haven't had Newton over center, but because their receiving corps is mediocre at best after D.J. Moore. The best thing Newton can do is hand the ball to now-healthy RB Christian McCaffrey or rookie RB Chuba Hubbard and cross his fingers that Carolina's ninth-ranked defense keeps his team in the game.
Is Newton's arrival enough to impact the betting odds?
Washington Football Team Vs. Carolina Panthers Betting Odds
Sportsbook
Point spread
Moneyline
Total
DraftKings
Washington +3.5 (-110)
Carolina -3.5 (-110)
Washington +150
Carolina -170
Over 43 (-110)
Under 43 (-110)
BetMGM
Washington +3.5 (-110)
Carolina -3.5 (-110)
Washington +155
Carolina -190
Over 43.5 (-110)
Under 43.5 (-110)
Caesars
Washington +3.5 (-110)
Carolina -3.5 (-110)
Washington +155
Carolina -180
Over 43 (-110)
Under 43 (-110)
BetRivers
Washington +3.5 (-109)
Carolina -3.5 (-112)
Washington +155
Carolina -180
Over 43 (-113)
Under 43 (-108)
Also Read: Baltimore Ravens vs. Chicago Bears betting odds and analysis
The Return of Riverboat Ron
Lost in the hype (and it's a lot of hype) about Newton's return to Charlotte, is the reappearance of Washington head coach Ron Rivera "Riverboat Ron" to face his old team. Back in 2015, with a much healthier and younger Newton as his QB, Rivera coached the Panthers to the Super Bowl, but four years later he was fired and now leads WFT. With Washington, he's been pretty good with an overmatched team that lost starting QB Ryan Fitzpatrick in the first game of the season.
Last year, the WFT won its division with a 7-9 record. This year, despite injuries and distractions, Rivera has coaxed three wins out of the roster, including one against the New York Giants, one on the road against a solid Atlanta team, and the upset of QB Tom Brady and the Buccaneersnof Tampa Bay.
How can Washington have three wins? It ranks near the bottom of the league in offense and defense. But, Rivera and his staff have the team playing very well on special teams, and WFT is one of the least penalized teams in the NFL. Still, Washington has four losses by 10+ points, so it's either a win or a blowout loss for Rivera and crew.
Betting Recommendation
The Panthers are slight favorites at home. With a new QB, and with both teams coming off emotional wins, this is a tough game to nail down. It's one of those rare NFL games that many bettors will probably stay away from because it could realistically be a big win for the visiting team or a blowout for the Panthers at home with Superman back in his cape.
Washington is a 3.5-point underdog on the road, and it's likely that the Panthers will cover that with a raucous pro-Newton crowd screaming for some of "the glory days" to come back.